While Tony Oliva would have my vote for the Hall of Fame, those who really have a vote have not seen the light.  A look at his stats confirms…he belongs!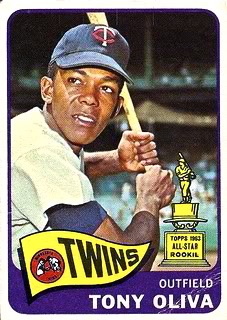 Cleveland - By now, most baseball fans have seen not one, but two outstanding throws from the outfield by Oakland A's left fielder Yoenis Cespedes.
The first was the most dramatic, gunning down Angel runner Howie Kendrick at home plate on the fly from 300 feet away near the left field foul pole at Anaheim Stadium.
The second saw Cespedes toss out another Angel at third base when Albert Pujols was tagged at third a day later on a shotgun throw from the Cuban native on the fly from deep left field.
That immediately brought out the "Best Throw in History" crowd, giving us a number of outstanding efforts from the past, which were obviously limited to those available on video.
That time element of the last 20-30 years left out the best throw I ever saw in person, one that occurred way back on July 6, 1966 at Cleveland Municipal Stadium and left those remaining from a crowd of 11,585 from a ninth inning rain delay stunned. And unlike either of the throws by Cespedes, this one won the game. If ESPN fans prefer, Tony Oliva, another Cuban native of an earlier generation, provided the fans a "walk-off throw" from a right-fielder.
I remember it like it was yesterday and to prove I'm still of sound mind, talk of that game was verified at lunch by my friend and former Plain Dealer sports reporter Joe Maxse. We were both in our early teens at the time and Oliva, the Minnesota Twins right fielder, made us glad we both stayed through a long rain delay to see an outfield assist that was among the best ever.
Remember, a long rain delay in the ninth inning of this Wednesday afternoon game is key to putting Oliva in the company of the great outfielders of all-time. The Twins, who were the defending American League champions, entered the bottom of the ninth with a 4-2 lead, despite Cleveland left-hander Sam McDowell striking out 11 in seven innings and leaving the game in a 2-2 tie.
Minnesota had broken the 2-2 tie with two runs in the eighth with a 2-run double by Oliva off Dick Radatz, making Dwight Siebler the pitcher of record, despite going just a third of an inning in relief of starter Dave Boswell.
The Indians had some luck against relief pitcher Johnny Klippstein before the rain delay. Vic Davalillo pinch hit for Luis Tiant by flying out to center to begin the Cleveland ninth. Klippstein then walked Chuck Hinton, who stole second before Leon Wagner stuck out for the second out of the inning. Cleveland then caught a break when Klippstein then walked both Chico Salmon and Rocky Colavito to load the bases.
Colavito, who represented the winning run at first, was replaced by pinch runner Dick Howser. But before Fred Whitfield could come to bat, the rain proved too much and the delay began.
There was a reward for those who sat through the rain delay, but it was bitter sweet for Indian fans, who saw a great shot at a win whisked away as soon as Whitfield could return to home plate for his ninth inning at-bat.
The delay also brought a Minnesota pitching change, as Cleveland native Gary Roggenburk replaced Klippstein.
Roggenburk, a graduate of Cleveland St. Ignatius High, where he starred in both baseball and basketball, gave up a solid single to right by Whitfield that scored Hinton easily.
Tony Oliva led the American League in hitting three times, led the league in hits five times, and was AL Rookie of The Year in 1964.
But this is where Oliva, who retired with three American League batting crowns, led the league in hits five times, and was the 1964 AL Rookie of the Year, steps up and ends the game.
Oliva, whose No. 6 has long been retired by the Twins, recognized the situation and gave Minnesota the win that day with his throw to nail Salmon.
Despite the ball being very wet due to wet grass in the outfield, Oliva picked up the ball in his bare hand and rifled his throw home, where Minnesota catcher Jerry Zimmerman applied the tag to Salmon as he slid home. Game, set, and match,  thanks to Tony Oliva.
My memory of the play is still vivid, even though it happened nearly 50 years ago. But I'm sure glad that Joe Maxse is able to tell the same story of seeing that same game. And I'm happy to have found Baseball-Reference.com, which filled in the blanks with the right names that surround the story.
Besides Roggenburk, a look at that box score provided by Baseball-Reference.com also revealed five Twins in that game at one time or another also played for the Indians.
While Klippstein's long career also included playing for the Indians in 1960, four others ultimately found their way to Cleveland. They included third baseman and Parma native Rich Rollins, outfielders Jimmy Hall and Ted Uhlaender, and shortstop Zoilo Versalles.
In hunting down information on Baseball-Reference.com on Oliva, I found that there is also a very active organization looking to get the former Twins player, who escaped "Castro's Cuba", into the Baseball Hall of Fame.
And if you never saw Tony Oliva play, you are reminded of his Hall of Fame credentials by his stats, numbers that graced baseball cards for 15 years from 1962-1976…a career that suffered only one setback and that was a case of bad knees.
Oliva played little in the outfield during his last five seasons with the Twins, but his collection of assists in seasons prior to becoming a designated hitter is among the best for his generation.
While Tony Oliva would have my vote for the Hall of Fame, those who really have a vote have not seen the light. But a number of his fans have kept the faith with a website dedicated to getting Oliva into Cooperstown.
If you are old enough to have seen Oliva play, or if you have never heard of Tony Oliva until now, take a minute and check out VoteTonyO.com on line and see…why I was such a fan of this Minnesota Twins outfielder, before and after "The Throw" at Cleveland Municipal Stadium way back in 1966.
Dale Meggas is a veteran writer for the NCAA and Cleveland newspapers covering the Browns, Indians, Cavaliers and the Cleveland State Vikings. http://pressprosmagazine.com/meggas-if-you-never-saw-tony-o/